Hearty, healthy, dense, moist, and naturally sweet. What more could you ask for? You would never be able to tell that this recipe is relatively guilt-free, but that's exactly how you should enjoy it.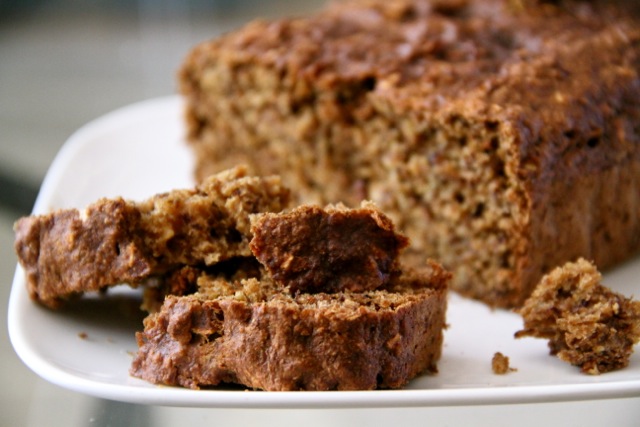 Ingredients (makes one 9 x 5 loaf)
1¼ cup spelt flour (can sub with whole wheat)
½ cup quick oats
1½ tsp. baking soda
½ tsp. baking powder
½ tsp. cinnamon
¼ tsp. nutmeg
½ tsp. sea salt
1 Tbsp. ground flaxseed
3 medium, ripe bananas (about 1½ cups mashed)
¼ cup Greek yogurt
¼ cup maple syrup
2 Tbsp. coconut butter, melted
Directions
Preheat your oven to 350ºF, and lightly grease a 9 x 5 bread pan.
In a large bowl, combine the dry ingredients (flour, oats, baking soda/powder, spices, salt, and ground flax). Stir until well combined, and set aside.
In a medium sized bowl, roughly mash up the bananas with a fork, leaving some chunks in tact.
Add the Greek yogurt and maple syrup to the mashed bananas, stirring until combined.
Using a microwave or toaster oven (and an oven-safe dish), melt the coconut butter and add it to the banana mixture, stirring until fully combined.
Add the wet ingredients to the dry ingredients, and stir gently. Do not overmix.
Pour the batter into the loaf pan, and bake for 50 minutes.
Remove from the oven and let it cool in the pan for about 5 minutes before transferring it to a cooling rack to cool completely.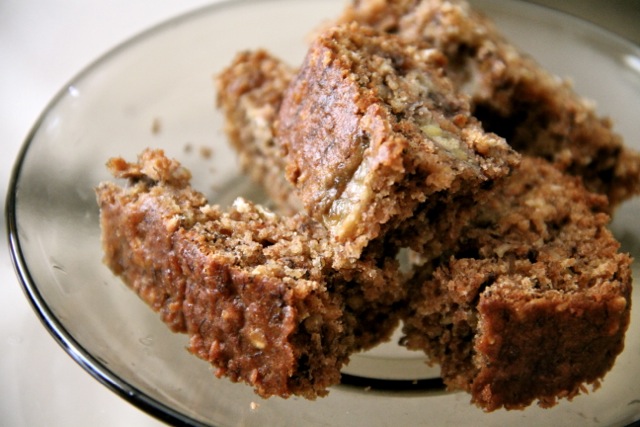 Happy Eating!