Chewy and soft with a subtle banana flavor, these cookies were inspired by one of everyone's favorite flavor combinations to create one undeniable delicious, yet hearty and healthy, treat.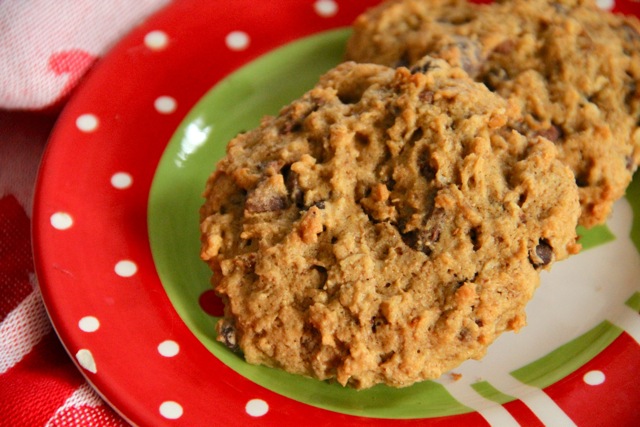 Ingredients (makes 36 cookies)
1 cup all purpose flour
½ cup whole wheat flour
½ tsp. baking soda
½ tsp. salt
1/3 cup butter, softened
1/3 cup almond butter
1/3 cup granulated sugar
1/3 cup brown sugar
1 egg
1 tsp. vanilla extract
½ cup mashed ripe bananas (~2 small/1 large)
1 cup old-fashioned oats (not quick!)
¾ cup chocolate chips/chunks (I used cut up Hershey's Kisses)
Directions
Preheat oven to 375ºF and lightly grease a cookie sheet or cover it with parchment paper.
In a medium sized mixing bowl, combine flours, baking soda, and salt. Mix until well combined and set aside.
Using an electric mixer, mix butter and almond butter until combined. Add in both sugars and beat until light and fluffy. Add in egg, vanilla extract, and banana. Mix until well combined.
Add flour mixture, mixing until just combined. Stir in oats and chocolate chunks.
Using a rounded tablespoon, drop dough onto prepared baking sheets, and flatten slightly.
Bake 10-12 minutes, or until edges begin to turn golden brown.
Remove from oven and let cool for ~10 minutes before transferring to a cooling rack to cool completely.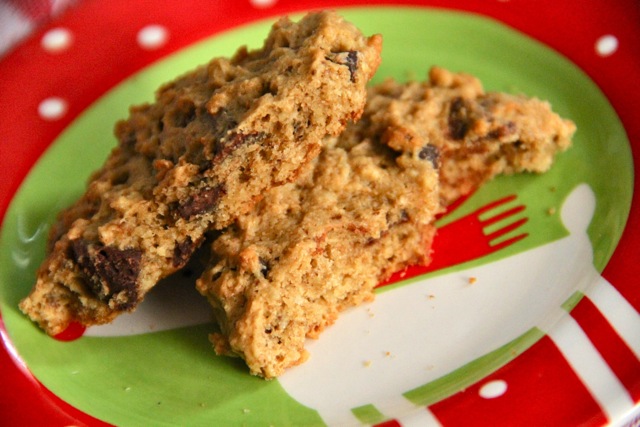 Happy Eating!