Even those who aren't fans of traditional carrot cake will love these as a way to sneak a little bit of extra veggies into their day. Hearty, moist, and full of flavor, these muffins are a perfect way to start the day.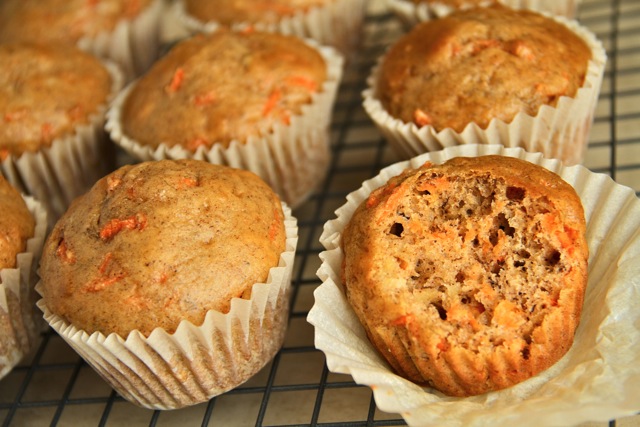 Ingredients (makes 12 muffins)
1½ cup all purpose flour
1 tsp. baking soda
1 tsp. cinnamon
¼ tsp. nutmeg
¼ tsp. salt
1 egg
½ cup granulated sugar
2 Tbsp. coconut oil, melted
½ cup mashed banana

½ cup plain Greek yogurt
1 tsp. vanilla extract
1 heaping cup shredded carrots
Instructions
Preheat oven to 350ºF and lightly oil a muffin tray, or line it with 12 paper/silicone liners.
In a large bowl, combine flour, baking soda, cinnamon, nutmeg, and salt. Set aside.
In a medium sized bowl, whisk together the egg and sugar until fully combined. Add the coconut oil, mashed banana, yogurt, and vanilla. Mix well.
Combine wet and dry ingredients slowly by adding the flour mixture in 2 or 3 increments, stirring gently each time until just incorporated. Finally, stir in carrots. Do not overmix.
Use a spoon to divide batter evenly among the 12 muffin cups. Bake muffins for 20 minutes. When finished, remove them from the muffin tray and allow to cool on a wire rack.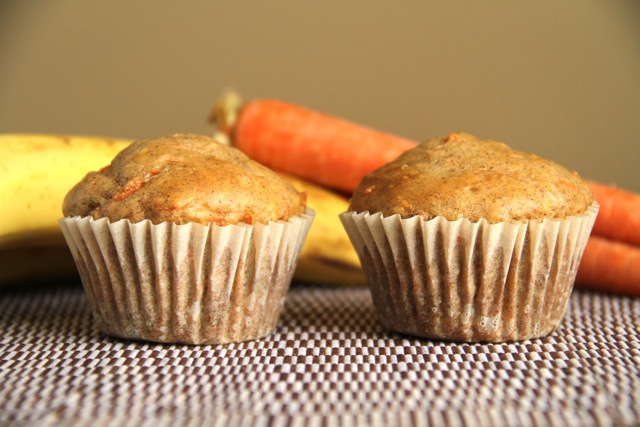 Happy Eating!