. fig and date oatmeal bars .
Gooey, sweet, crispy, and crunchy, these healthy fig bars are perfect for any time of the day. Enjoy one as a quick breakfast, or grab one to keep the afternoon hunger at bay, chances are you'll be coming back for more!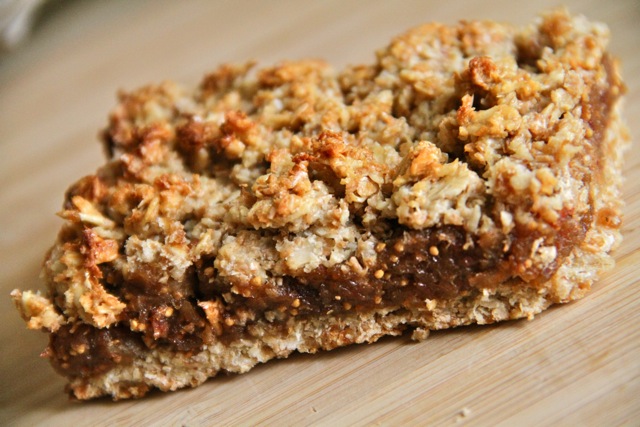 Ingredients (makes 9-12 bars)
For the filling:
1 packed cup (8 oz.) dried figs
½ packed cup (4 oz.) pitted dates
½ tsp. vanilla extract
1 Tbsp. lemon juice
3 Tbsp. water
¼ tsp. cinnamon
¼ tsp. ginger
1 cup old-fashioned oatmeal
¼ cup oat bran
¼ cup wheat bran
¼ cup whole wheat flour
¼ cup vanilla protein powder (I used whey)
1 tsp. baking powder
¼ tsp. salt
2 Tbsp. coconut oil, melted
¼ cup applesauce
2 Tbsp. maple syrup
Directions
Prepare filling. Place figs and dates into a food process (or high powered blender) and grind to a coarse paste. Add vanilla, lemon juice, water, and spices. Mix until combined and no large chunks remain. Set aside.
Preheat your oven to 375ºF, and lightly grease a 8-inch square pan.
Melt your coconut oil by placing it in a microwave safe dish and heating for 15 seconds. Remove, stir, and repeat until no chunks remain.
Prepare crust. In a medium sized mixing bowl, combine dry crust ingredients and mix well. Stir in applesauce, maple syrup, and coconut oil, mixing until a thick consistency is reached. Add more applesauce if needed.
Divide crust mixture in half. Press half of the dough into the bottom of your square pan. Spread filling evenly over the bottom crust layer. Smooth remaining crust mixture on top of filling.
Bake for 20 minutes, or until slightly browned.
Remove from oven and let cool completely before cutting into bars.
Happy Eating!