Chocolate Chip Banana Oatmeal Cookies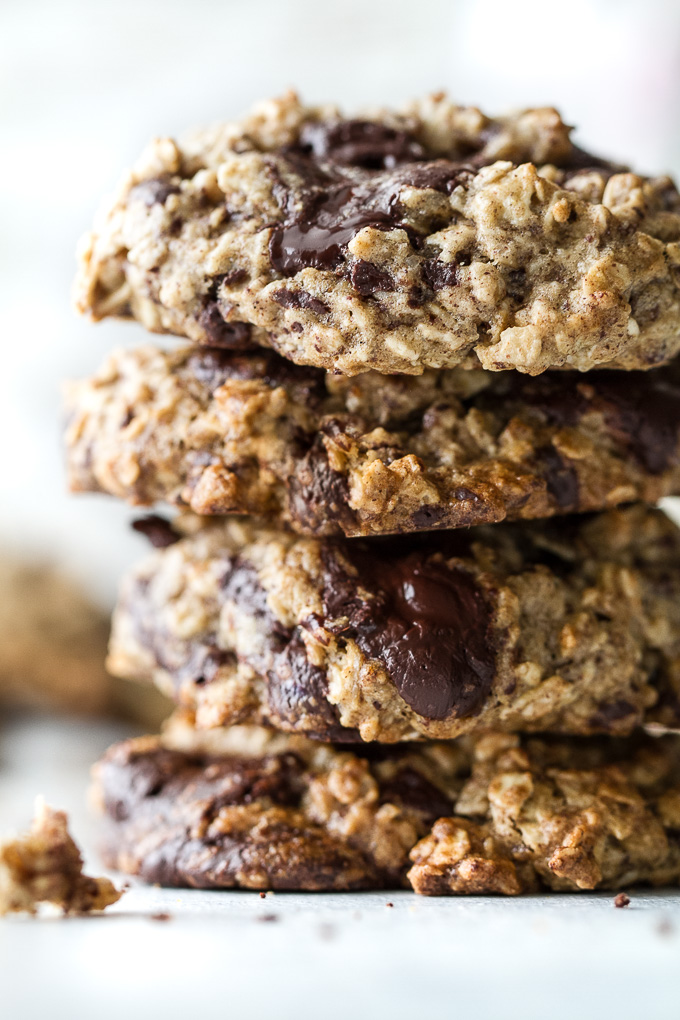 Author:
Amanda @ Running with Spoons
1/2 medium-size ripe banana (~50 g)
1 tbsp (7 g) ground flaxseed
3 tbsp (45 ml) water
3 tbsp (45 ml) lightly flavoured vegetable oil*
1/3 cup (66 g) cane sugar
1 tsp vanilla extract
2 cups (160 g) quick cooking oats
3/4 cup (90 g) all-purpose gluten-free flour**
1 tsp ground cinnamon
1/2 tsp baking soda
1/4 tsp salt
1/2 cup (80 g) chocolate chips/chunks
Preheat your oven to 350ºF (176ºC) and line a large baking sheet with parchment paper or a non-stick baking mat. Set aside.
Mash the banana in a medium-size mixing bowl. Add the ground flax, water, vegetable oil, sugar, and vanilla, mixing until fully combined. Set aside.
In a large mixing bowl, combine the oats, flour, cinnamon, baking soda, and salt. Add the wet ingredients to the dry ingredients, mixing until just combined. Fold in the chocolate chips.
Using a rounded tablespoon, drop the dough onto your prepared baking sheet, and flatten each cookie slightly. They won't change shape much while they bake, so shape them how you want the finished product to look.
Bake for 8 - 10 minutes, or until the edges begin to turn golden brown. Remove your cookies from the oven and let them cool for 5 minutes before transferring them to a cooling rack to cool completely. Store them in an airtight container at room temperature for up to 5 days.
* I used canola oil, but feel free to use whatever you have on hand. I wouldn't recommend using olive oil because of it's strong taste.
** If your mix doesn't have xanthan gum, you might want to add 1/4 tsp to the dry ingredients if you have problems with getting the cookies to hold together. You can also use regular all-purpose flour if you don't need these to be gluten-free.
Recipe by
. running with spoons .
at http://www.runningwithspoons.com/2017/04/02/chocolate-chip-banana-oatmeal-cookies-gf-vegan/