Healthy Chocolate Lover's Muffins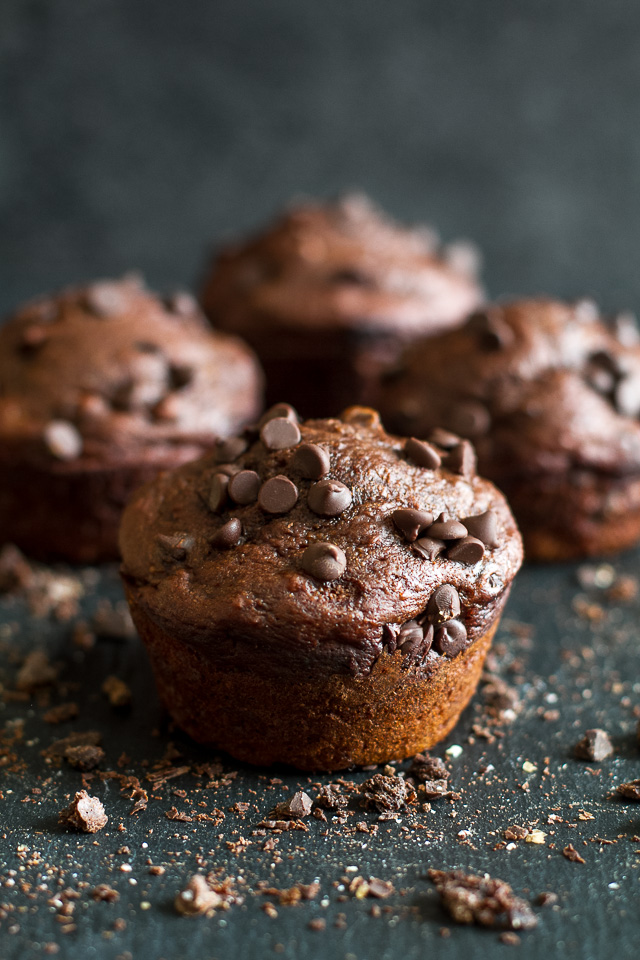 Author:
Amanda @ Running with Spoons
1 cup (120 g) whole wheat pastry flour*
1/4 cup (20 g) unsweetened cocoa powder
1 tsp baking powder
1/2 tsp baking soda
1 large egg
1 cup (225 g) plain Greek yogurt**
1/2 cup (160 g) liquid honey
1/2 cup (120 ml) unsweetened applesauce***
2 tsp vanilla extract
1/2 cup (80 g) chocolate chips
Preheat your oven to 350F (176C) and prepare a muffin pan by lining the cavities with paper liners or greasing them with cooking spray or oil. Set aside.
In a large mixing bowl, whisk together the flour, cocoa, baking powder, and baking soda. Set aside.
In a separate bowl, beat the egg until it becomes slightly frothy before whisking in the yogurt, honey, applesauce, and vanilla.
Slowly add the wet ingredients to the dry ingredients, mixing gently until just combined. Fold in the chocolate chips.
Divide the batter evenly among the 12 muffin cups, filling each until they're about 3/4 of the way full. Top with additional chocolate chips, if desired.
Bake for 17-19 minutes, or until the tops of the muffins are firm to the touch and a toothpick inserted into the centre comes out clean. Allow the muffins to cool in the pan for ~10 minutes before transferring them to a wire rack to cool completely. Store them in an airtight container at room temperature for up to 5 days, or freeze for up to 3 months.
* You could also make these with all purpose flour or use a mix of 1/2 cup (60 g) whole wheat and 3/4 cup (90 g) all purpose.
** You could also use a vanilla Greek yogurt if you like things slightly sweeter.
*** If you don't have any applesauce on hand, you could also use an equal amount of mashed banana.
Recipe by
. running with spoons .
at http://www.runningwithspoons.com/2016/04/23/healthy-chocolate-lovers-muffins/