Apple and Gouda Mini Frittatas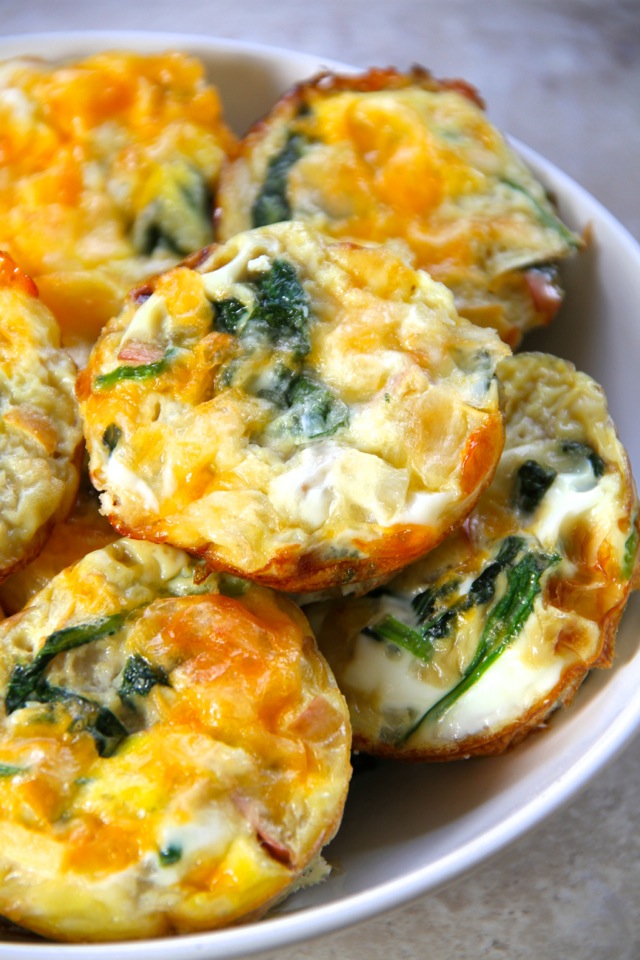 Author:
Amanda @ Running with Spoons
2 cups baby spinach
1 tsp. coconut oil
1 medium onion, diced
1 medium apple, diced
6 large eggs
1/3 cup 2% milk
1/2 cup Gouda cheese, shredded
1/2 tsp. salt
1/4 tsp. ground pepper
Preheat oven to 350F and spray a muffin pan with nonstick spray. Set aside.
Place spinach in a steamer set over boiling water, cover, and steam until just wilted, about 1 minute. Remove and pat dry with a paper towel to remove some of the excess moisture.
Melt coconut oil in a small saucepan set over medium heat. When pan and oil are hot, add the diced onion and cook until soft and translucent, about 5 minutes. Transfer to a separate bowl and add the wilted spinach and diced apple. Stir well and set aside.
In a medium-sized mixing bowl, whisk together eggs, milk, Gouda, salt, and pepper. Divide the spinach, onion, and apple mixture evenly among the muffin tins, and use a ladle to spoon the egg mixture over top, filling about 3/4 of the way full.
Bake for 15-20 minutes until eggs have set and edges begin to turn golden brown. Remove from oven and allow to cool for 5 minutes before removing from tins and serving.
Recipe by
. running with spoons .
at http://www.runningwithspoons.com/2015/11/09/apple-and-gouda-mini-frittatas/