Feel good about satisfying those chocolate cravings with a flourless double chocolate chip muffin that's gluten-free, sugar-free, dairy-free, grain-free, and oil-free, but so soft and fluffy that you'd never be able to tell.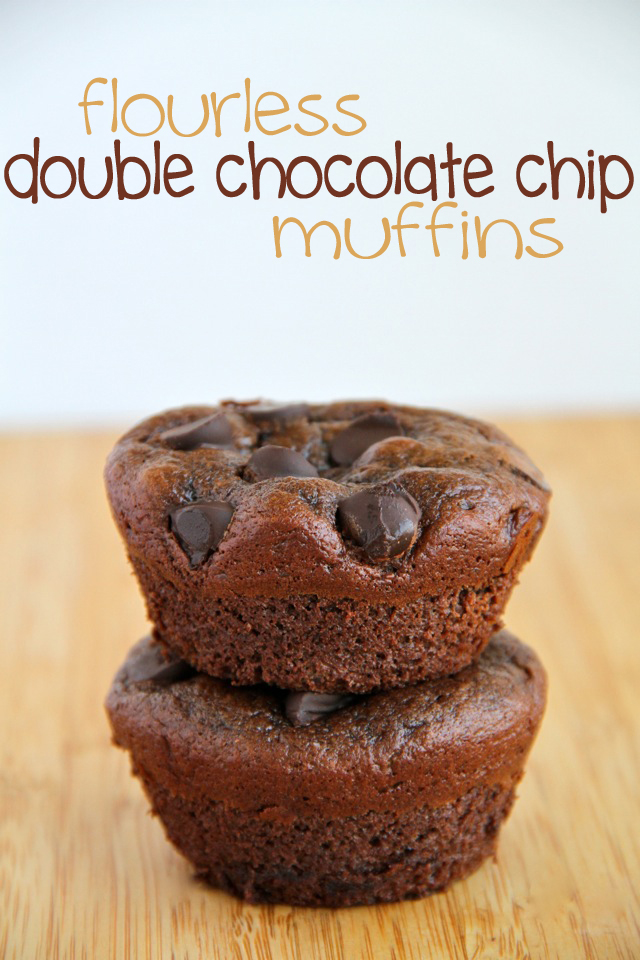 I'm not one to say no to chocolate. Ever. Well, unless it's paired with peanuts, but in that case it's more an issue of self-preservation rather than choice. Pesky allergies.
If you've been reading Spoons for any amount of time, you're probably well aware of my allergy to peanuts. I try not to complain about it too much, but it can be hard when you live in a [blog] world that's obsessed with the little legumes and you're constantly being reminded of your dietary limitations. At the end of the day, though, it's not all that bad. I definitely still manage to eat quite well, and it helps that there are some pretty awesome allergy-friendly companies out there who are sympathetic to my situation.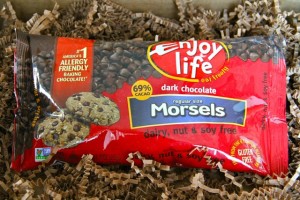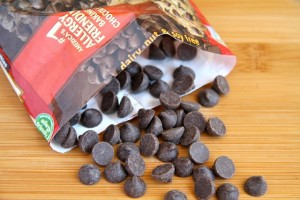 When Enjoy Life reached out to me and asked if I wanted to sample their new dark chocolate morsels, my answer was pretty much a no-brainer. I've been a big fan of their products for years now, and… I may have mentioned that I never say no to chocolate? But neither would you if you were presented with these rich bites of dark chocolatey goodness! I started out by taste-testing them straight from the bag (naturally), before figuring that I should probably do some baking with them to see how they fared. The result of my experiments? Flourless Double Chocolate Chip Muffins.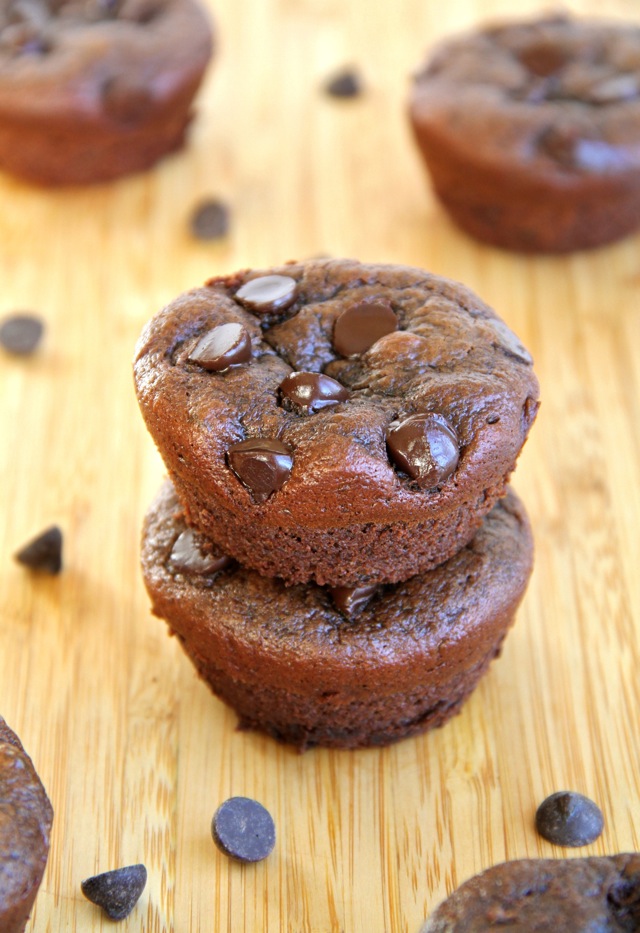 If these muffins sound familiar, it's because I based them off the same recipe that I used for my original flourless chocolate chip almond butter muffins, simply switching out the oats for some cocoa powder to make them extra chocolately — just in time for Valentine's Day 😀
Like the originals, they're gluten-free, sugar-free, dairy-free, and oil-free, but as an added bonus, they're now grain-free as well. You can make them nut-free by replacing the almond butter with sunflower seed butter, but I'm afraid I haven't quite figured out how to make them egg-free just yet — I'll be sure to let you know if I ever do.
Until then, I hope you enjoy some of the softest and fluffiest muffins that I've ever had the pleasure of eating, whipped up in a blender in under 30 seconds just to make them that much more easier to enjoy.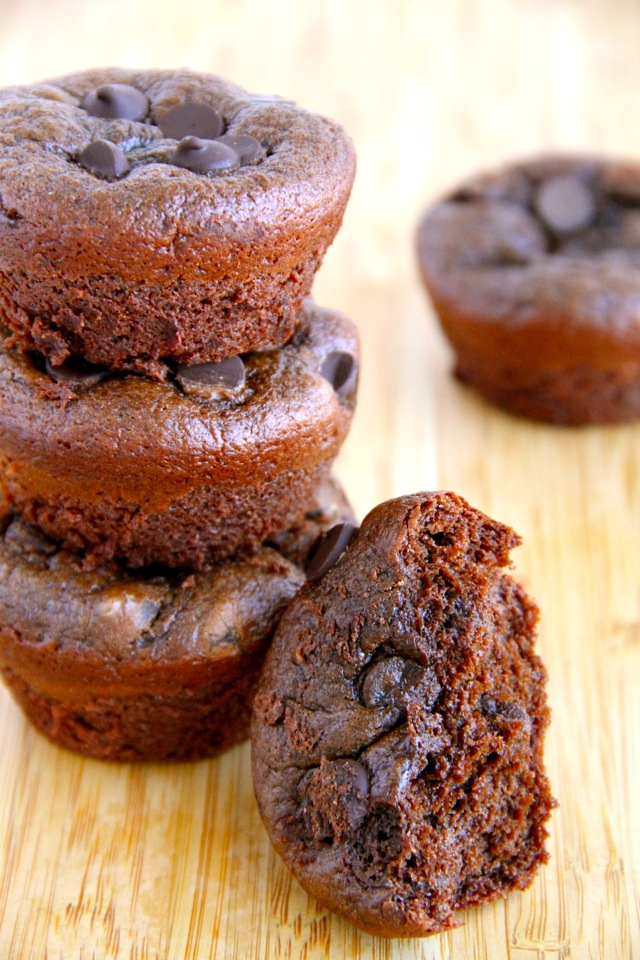 Flourless Double Chocolate Chip Muffins
Author:
Amanda @ Running with Spoons
Ingredients
1/2 cup almond butter*
1 ripe medium/large banana
1 egg
1/4 cup honey
1/4 cup unsweetened cocoa powder
2 Tbsp. ground flaxseed
1 tsp. vanilla extract
1/2 tsp. baking soda
1/4 cup chocolate chips, plus more for sprinkling on top
Directions
Preheat oven to 375F and prepare a muffin pan by spraying 9 cavities with cooking spray. Set aside.
Add all ingredients except for chocolate chips to a blender and blend on high until batter is smooth and creamy. Stir in chocolate chips by hand.
Pour batter into prepared muffin pan, filling each cavity until it is about 3/4 full.
Bake for 10-12 minutes, until the tops of your muffins are set and a toothpick inserted into the middle comes out clean. Allow muffins to cool in pan for ~10 minutes before removing. Store in an air-tight container for up to a week.
Notes
* To make these nut free, simply replace the nut butter with soy nut or sunflower seed butter.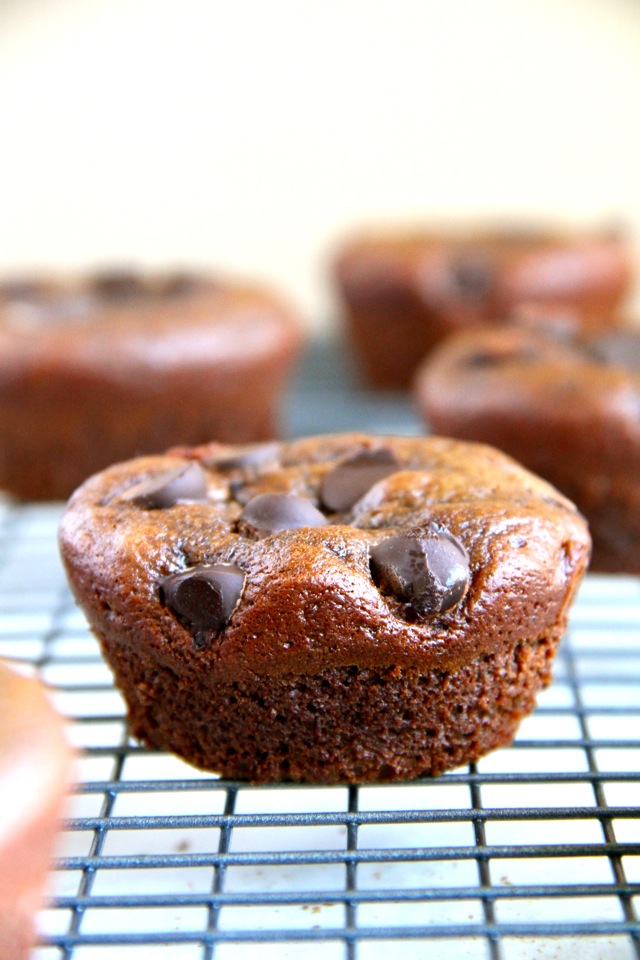 What was the last form of chocolate that you ate? Bar? Cookie? Muffin? Candy?
Do you have any allergies or food intolerances?
More places to find me!
E-mail — [email protected]
Twitter — runwithspoons
Facebook — runningwithspoons
Pinterest — runwithspoons
Instagram — runwithspoons
Bloglovin — runningwithspoons
Disclaimer – Enjoy Life provided me with the Dark Chocolate Morsels free of charge. I was not compensated for this post, and all opinions are my own.