Hey guys, happy 12/12/12!
I'm currently livin' it up in Vegas (flight was nice; no snow is beautiful), but since it's WIAW, and this month's theme is all about healthy recipes, I wanted to share a cookie recipe with you that I made last week. I hope you're all doing well! I'll do my best to keep up to date on blog reading, but it being Vegas and all… well… you'll have to forgive me if I start slacking on the commenting 😉
. – . – . – .
There are certain questions that I just don't have the answer to. I can't tell you the meaning of life, I can't recall what the 1,657,489th digit of π is, and I'm still undecided on the whole chicken/egg debate. One thing I do know, however, is that bananas, almonds, and chocolate make one heck of a good foodie combo. And when cookies are involved? Oh come on, do you really need more convincing?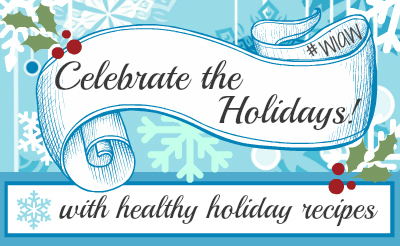 . – . – . – .
. banana almond chocolate chunk cookies .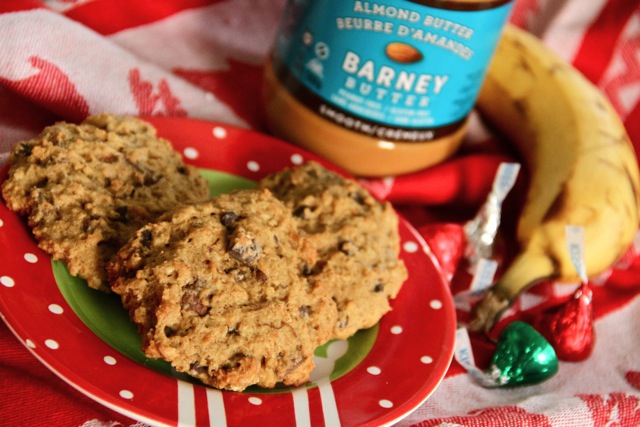 Ingredients (makes 36 cookies)
1 cup all purpose flour
½ cup whole wheat flour
½ tsp. baking soda
½ tsp. salt
1/3 cup butter, softened
1/3 cup almond butter
1/3 cup granulated sugar
1/3 cup brown sugar
1 egg
1 tsp. vanilla extract
½ cup mashed ripe bananas (~2 small/1 large)
1 cup old-fashioned oats (

not

quick!)
¾ cup chocolate chips/chunks (I used cut up Hershey's Kisses)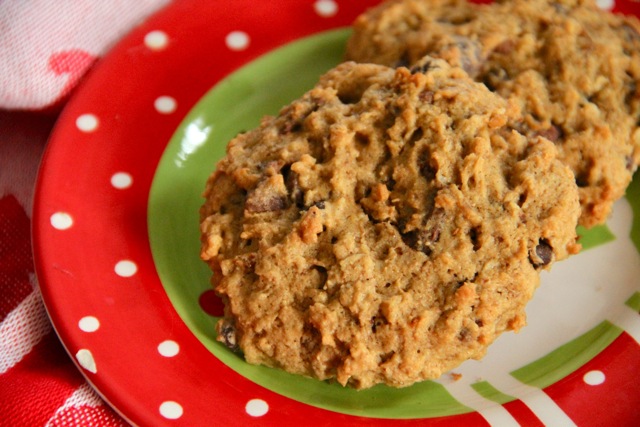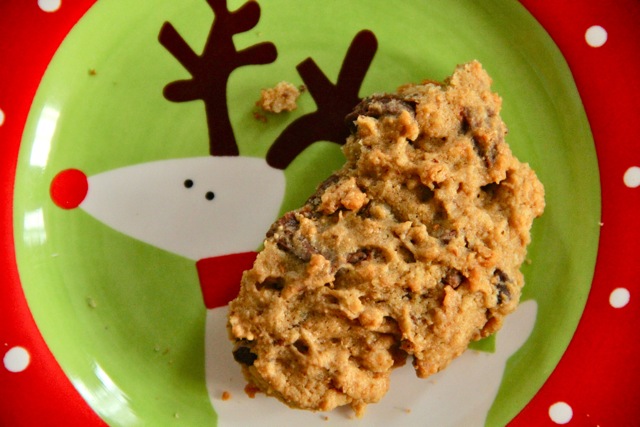 Instructions
Preheat oven to 375ºF and lightly grease a cookie sheet or cover it with parchment paper.
In a medium sized mixing bowl, combine flours, baking soda, and salt. Mix until well combined and set aside.
Using an electric mixer, mix butter and almond butter until combined. Add in both sugars and beat until light and fluffy. Add in egg, vanilla extract, and banana. Mix until well combined.
Add flour mixture, mixing until just combined. Stir in oats and chocolate chunks.
Using a rounded tablespoon, drop dough onto prepared baking sheets, and flatten slightly.
Bake 10-12 minutes, or until edges begin to turn golden brown.
Remove from oven and let cool for ~10 minutes before transferring to a cooling rack to cool completely.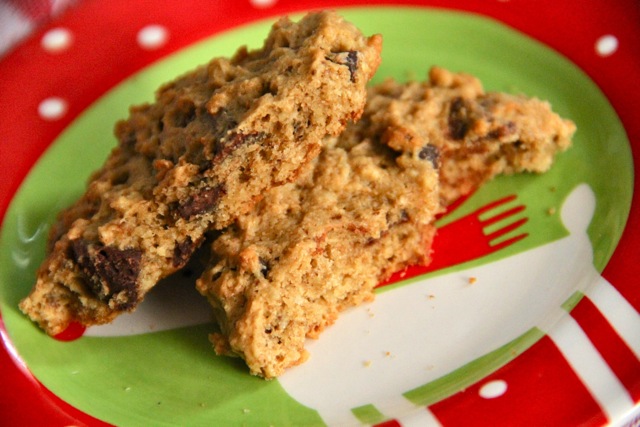 . – . – . – .
What's your favorite holiday cookie? I'm a big fan of shortbread and snickerdoodles.
What are some of your favorite foodie combos? Banana/AB/chocolate takes the cake for me, but some other great ones are yogurt/applesauce/cinnamon, turkey/cheese/apple, coconut oil/honey/toast, and sweet potato/AB/cottage cheese.